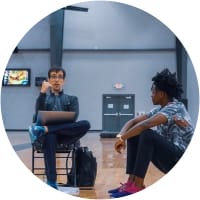 Corey Evans •
BasketballRecruiting.Rivals.com
A few more pressing questions to get to in this week's Wednesday's Leftovers. We address the recruiting developments at
Georgia
, how
Indiana
can fill out its roster, my prediction for
Kentucky
's pitch.
Yes, yes and yes. Tom Crean has never had major issues on the recruiting trail. Yes, he does love his often-slighted prospects that he can help mold and develop, such as Dwyane Wade and
Over the weekend, the Bulldogs secured the commitment of
*****
The miss on
Indiana
as he was the ideal wing that would have squelched a number of their concerns next season as a scorer with added size. Now that Brooks is a
Kentucky
pledge, IU has to regroup and figure out the best route in completing its roster.
The Hoosiers did just make the final six for Rivals150 center
UMass
lean. They are in the final list for
Alabama
and
Memphis
are much further ahead in the race for the five-star.
This brings us to
Baylor
,
Georgia
,
Miami
and
Xavier
are among those in a good spot for him, I do believe Indiana can get it done.
*****
Kansas
. Maybe I am totally off - or I am just stubborn, as I have stuck with my prediction for Hurt since he was a sophomore - but I do believe that, barring anything unforeseen, he ends up in Lawrence. Now, the confidence meter is not too high, but it should be noted that all of the programs recruiting him also don't have a tremendous feel for which way he might be leaning.
Duke
gained some steam a few weeks ago, but I am not buying it just yet.
Kentucky
and
UNC
are just as involved, but without a timeline, Hurt committing to any of the four would not be a giant surprise, though I am going to stick with the Jayhawks.
*****
From a talent standpoint alone, I have to go with
Iowa State
. It comes down to which Cyclones team we will see. Will it be the one that ran through the Big 12 Tournament last week, or the one that was demolished just days earlier to a middling
West Virginia
squad?
If we get the former, there is no reason that they cannot go on a deep run. The talent is not lacking and neither is the ceiling of this ISU team. The Cyclones have experience and age with
Kentucky
in their way in the Sweet 16 game does hurt their chances some.
*****
It is a case-by-case situation. The sell at Kentucky: the platform, elite accoutrements, competing against the best every day in practice and the chance to be appointment television each and every game. The argument for other programs: more minutes, a larger opportunity to contribute, the chance to play more often through mistakes and the chance to have a bigger part of the spotlight.
Take, for example,
Michigan
star was stuck behind
Kentucky
as he averaged just 10 minutes per game. Matthews decided to transfer and is now the catalyst for Michigan's chances at a Final Four run this month, and he should be selected somewhere in June's NBA Draft. Matthews figured that it was in his best interests to receive greater playing time and a chance to be 'the guy' elsewhere. Meanwhile,