Four-star Fisher a big pull for Jamie Dixon and TCU
It didn't take long for four-star senior point guard Jaylen Fisher to find a new home after de-committing from TCU late last week.
Wednesday afternoon, 2016's No. 55 ranked player announced that he would play his college ball for TCU and new head coach Jamie Dixon.
While it was a quick decision for the floor general from Memphis (Tenn.) Bolton, it wasn't all that surprising of one. Dixon hired assistant coach Ryan Miller who has deep Memphis ties and recruited Fisher to UNLV allowing for the Horned Frogs to build a relationship quickly.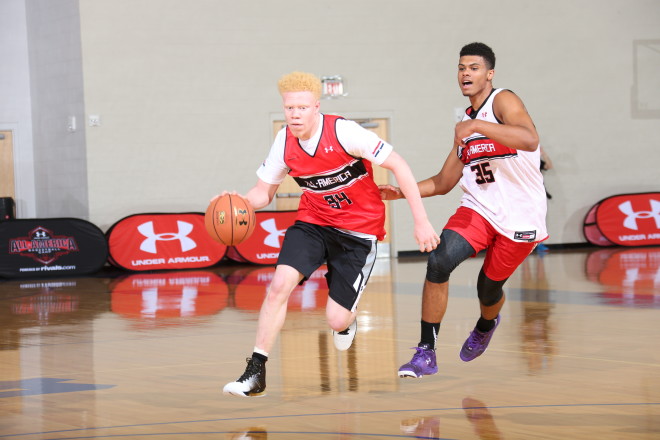 IN HIS OWN WORDS
Through his summer coach Norton Hurd of Team Thad, Fisher contacted the media and explained why he was able to choose TCU so quickly.
"I chose TCU for four main reasons. First, because of the close relationship my family and I have built over the last year and a half with Coach Ryan Miller; two, the resumè of Coach Jamie Dixon and his proven track record for developing talent and winning ; thre the emphasis the University has placed on making basketball a priority; and lastly the opportunity to have the ball in my hands from day one in the Big 12. Those were the reasons I chose TCU."
RIVALS REACTION
When we discussed the spring's new college coaching hires, we mentioned the recruiting Jamie Dixon would bring to the table as a huge plus for TCU. It's already proving to be true.
During his tenure at Pitt, Dixon landed 27 Rivals150 prospects while the Horned Frogs combined for only three over the same amount of time. By landing Fisher, Dixon has now doubled the number of four-star basketball prospects to choose TCU since the birth of Rivals.com.
As for Fisher himself, he's a hard nosed and aggressive point guard. He loves to attack the rim, plays with physicality and is also an excellent defender. More than likely, he should be able to step right in and play big minutes.
Edit