10 things to know about the ESPN 25
Here are 10 things to know about our updated
Class of 2017 ESPN 25
player rankings:
1. Projecting freshmen:
As with any freshman class, this one is loaded with potential. It will be fun to watch their development over the next three years. This class could easily be better than the
2015 class
, and it has a chance to catch the outstanding
2016 class
. Some of these freshmen are already making an impact on the 16-and-under and 17-and-under levels; they just need to continue to develop.
[+] Enlarge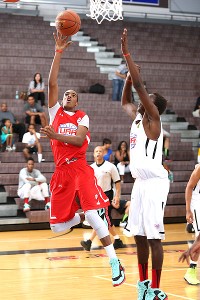 Kelly Kline/Under ArmourTroy Brown Jr. is the top point guard in the Class of 2017.
2. Strength in the frontcourt:
The Class of 2017 has some pretty good point guards, which already puts it ahead of the 2015 class. The point guards in 2017 are lead by 6-foot-5 Penny Hardaway-clone
Troy Brown Jr.
There is still only one true point in the ESPN 25 (
Jalek Felton
and
Trevon Duval
are combos), but there is plenty of depth when looking at the next 50 players. Posts and wings dominate the class at the top.
3. Early impact:
It is interesting to note that none of the players in our top 25 play in their age group (15-and-under level) with their summer club teams. They all play "up" in division, either one or two age groups. That lets you know the strength of the class. These youngsters are making immediate impacts despite limited experience.
4. Breeding success:
Many players in our top 25 have famous athletic bloodlines:
Gary Trent Jr
. (father played in the NBA),
Connor McCaffery
(father is Iowa basketball coach Fran McCaffery),
Isaiah Stokes
(brother of former Tennessee forward Jarnell),
Jalek Felton
(nephew of NBA guard
Raymond Felton
),
Michael Porter
(father is assistant women's coach at Missouri),
Victor Bailey Jr.
(father was a wide receiver in the NFL) and Tomas Murphy (Dad, Jay, played in the NBA and overseas).
5. Are true big men back?:
The true center might be trying to make a comeback. Two of our top five players are true centers.
DeAndre Ayton
is more of a face-up player right now, but he is developing a solid back-to-the-basket game.
Zach Brown
projects as a back-to-the-basket player. Others who project as true low-post centers are Nick Richards, Mitchell Robinson,
Kaleb Wesson
, Wyatt Yess, James Banks and
Brandon McCoy
, just to name a few.
6. Point guard depth:
There are several great prospects who just missed our top 25, including point guards
Jaylen Hands
and Trae Young, wing
Mitchell Ballock
and shooting guard Jordan Myers. This appears to be a deep class. As these talents continue to develop, there will be quite a few changes in our rankings.
7. Top prospect is foreign:
The No. 1 player was not born in the United States. Ayton is originally from the Bahamas. He came to America in the seventh grade. If he can remain No. 1, he would be the only player who wasn't born in the U.S. to begin and end No. 1.
8. Super growth spurt:
Porter is a super talented and skilled wing. He was already good, but he has been helped as a prospect by a tremendous change in his body. He was 6-4 last June but is now almost 6-8.
9. Positions are changing:
This class is continuing the trend of skilled big men and scoring point guards. It seems that over the past few years, true low-post centers and pure point guards are disappearing. Centers are becoming more and more skilled at an early age and moving away from the basket, while point guards are becoming more playmakers and facilitators versus running-their-team-type guards. With the success of players such as
Anthony Davis
and
Russell Westbrook
, look for the trend to continue.
10. Age is a factor:
Over the past few years, incoming freshmen are becoming older. This class continues that trend with almost all of our entire top 25 being older than 15.