For the next two weeks during basketball's early signing period, which begins Nov. 13 and runs through Nov. 20, you will be hearing terms and phrases such as national letter of intent (NLI or LOI) and "deemed ineligible." If you are new to the recruiting realm or simply need a refresher of the terms, rules and regulations of signing period, you've come to the right place.
[+] Enlarge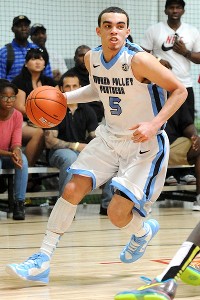 Chris Williams/Icon SMINo. 4 recruit Tyus Jones is expected to pick his college during the early signing period, which starts on Wednesday.
What is early signing period, and why is it important?
After months and sometimes years of recruiting, reclassifying, committing, decommitting and recommitting, college basketball recruits have one week in early November in which they can sign a national letter of intent to play at one of the three division levels the NCAA recognizes. In addition to the four-week period in the spring, basketball recruits may only sign their NLIs during these NCAA-mandated periods. Once a student-athlete signs his NLI, he is contractually bound to the university with which he signed and can officially be counted on the roster for the following season (barring academic ineligibility).
What is a national letter of intent?
An NLI is a contract between a student-athlete and an NLI member college or university that, once signed, ensures the student-athlete will attend said institution for one academic year in exchange for financial assistance. A student-athlete signing his NLI essentially means he is ending the recruiting process. Once he signs, other NLI member institutions are no longer allowed to contact the student-athlete on the basis of recruiting.
Is an NLI the same thing as a scholarship letter?
Not exactly. While the two terms are related, they do not mean the same thing. A one-year scholarship from the institution is rewarded to the student-athlete who signs his NLI, but he does not have to sign an NLI to receive a scholarship. Most student-athletes sign an NLI as a way to announce a definite final decision and cease the recruiting process, but signing an NLI is not required for a student-athlete to receive an athletic scholarship.
Can a student-athlete sign with a school to which he was not previously verbally committed?
A student-athlete's verbal pledge to a college coach prior to the signing period carries zero weight with the NCAA. Until the student-athlete signs his NLI, he has the right to change his mind as many times as he wants. Though it is rare, it does happen that a student-athlete signs his NLI with an institution where he was not previously verbally committed. Even rarer, but equally plausible, an institution can accept a verbal pledge from an interested student-athlete and then offer his spot to another interested party during the signing period.
What is the difference between the early and late signing period?
Not much in terms of the rules. All of the same stipulations for the November period apply to the late period, which runs April 17-May 15. Basketball has the early period really for the benefit of the student-athletes. Signing an NLI ends the recruiting pressure most high-profile recruits face, so signing early allows them to get that part of their future out of the way and focus on enjoying their final season of high school basketball. Student-athletes who wait until spring to sign are subject to all the stress the recruiting process can bring throughout the season. Student-athletes who choose to sign late also run the risk of the programs they are most interested in playing for not having a spot for them after the early period ends.
Can a recruit sign his NLI before he is declared academically eligible?
Every prospective college athlete must submit the proper documents to the NCAA Eligibility Center and be confirmed before he can compete at the NCAA level. A recruit is allowed to sign his NLI before submitting documentation to the Eligibility Center, but by signing his letter, the recruit is effectively promising he will submit the documentation required. Failure to do so in the allotted time will result in a voided NLI.